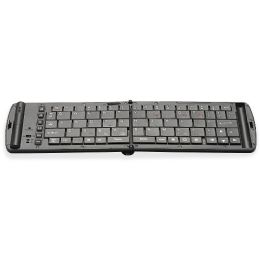 12 Units of Verbatim 97537 Keyboard - Office Supplies
12 Units of Verbatim 97537 Keyboard - Office Supplies at low wholesale prices. alltimetrading.com offers Office Supplies at bulk discounted prices.
Wireless - Bluetooth - Black - Handheld - Multimedia, Play/Pause, On/Off Switch Hot Key(s)
Wireless, Bluetooth mobile keyboard provides a quick and easy way to compose email and other documents with your iPad/iPhone. Designed especially to work with your Bluetooth-enabled iPad/iPhone (iOS 4 or higher), this thin-profile keyboard features an ultra-compact design that folds for maximum portability and easy storage in the included carrying case. The iPad/iPhone keyboard has a built-in media console allowing you to play, pause and control your iTunes with the touch of a button. The keyboard also includes two AAA batteries and an iPhone stand for even greater freedom and mobility. The closed keyboard measures 4" wide x 6-1/4" long while the open size is 4" wide x 12-1/2" long. The keyboard will also work with Android Tablets 3.0 or higher, Samsung Galaxy Tab, Motorola Zoom, Blackberry Playbook and any tablet with HID keyboard support and Bluetooth connectivity.
Brand: Verbatim