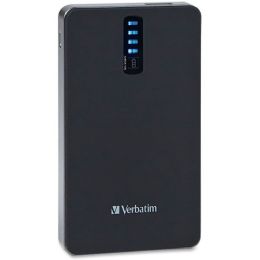 18 Units of Verbatim Dual USB Pack (8400mAh) - Flash Drives
18 Units of Verbatim Dual USB Pack (8400mAh) - Flash Drives at low wholesale prices. alltimetrading.com offers Flash Drives at bulk discounted prices.
Dual USB Power Pack lets you talk longer, listen to more music, play more games and watch more videos on a wide range of devices without worrying about running out of battery life. With an 8400mAh lithium polymer battery and included USB-to-micro-USB cable, this power source offers universal power. If you run low on power on your iPad, Samsung Galaxy Tablet, Google Nexus 7, iPhone, iPod, and micro-USB charged Smartphones or wireless Bluetooth headsets, simply plug in the Portable Power Pack and keep going. With two USB charging ports, you get the added convenience and flexibility of being able to charge multiple devices when needed, such as your Kindle and your iPhone. Use the push-on/auto-off button to switch on the device and the LED power-status indicator to gauge how much charge is available. Lightweight, slim design makes it convenient to carry in case you need emergency power so it is ideal for business or leisure travel, road trips, outdoor excursions and more.
Brand: Verbatim