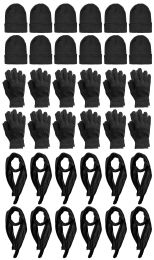 36 Units of Yacht & Smith Pre Assembled Unisex 3 Piece Winter Care Sets, Hat Gloves Scarf Set Solid Black - Winter Care Sets
36 Units of Yacht & Smith Pre Assembled Unisex 3 Piece Winter Care Sets, Hat Gloves Scarf Set Solid Black - Winter Care Sets at low wholesale prices. alltimetrading.com offers Winter Care Sets at bulk discounted prices.
Price Reflects 3 piece set.
3-piece set of winter essentials including a Stretchy warm beanie, cozy magic gloves and a soft fleece matching scarf. Bulk value gives you the most value for your dollar. Ideal for people buying for charity. Event planners and government organizations will benefit from our and low wholesale prices. Make This bulk winter buy the perfect gift for your favorite charity. Warm winter gear is essential for those in need during the cold winter months This 3 piece set is the perfect gift for those in need all season long. Shop wholesale sock deals store for all kinds of warm weather necessities all season long."
BULK VALUE PACK: A 3 piece set including hat, gloves and scarf, perfect for keeping warm this winter season. Get great quality winter gear for low wholesale prices. This all inclusive winter set has everything you need to keep warm throughout the winter. Basic colors and comfy warm fabric is just what you need. Great for skiing ,snowboarding and hiking or any outdoor activities. Durable long wear and extra warm polyester fibers keeps you warm and comfortable.
IDEAL FOR CHARITIES: Spread warmth and kindness to those in need with a complete set of winter essentials. Charity organizations and other nonprofits can benefit from our low prices and winter wear. Get the most for your money when you buy in bulk for your charity or fundraising event. Now you can give a full set of warm winter necessities to those who need it most. Bulk pack is great for schools, shelters and event planners.
COMFORT & STYLE & DURABILITY: Soft and warm 100 % acrylic provides warm and stretch to keep you protected from cold winter air. Stylish and versatile set includes warm magic gloves, a cozy scarf and a stretchy beanie hat. Easy to match unisex colors and sizes makes it easy and versatile. Everything you need for winter all in one set ! Machine wash/dry for easy care. Durable material with plenty of stretch.
GREAT GIFT IDEA: Its the sesason for giving ! Make gift giving super easy with a Unisex winter set. Makes a great stocking stuffer for anyone! One size fits most so you never have to worry about the fit. With this low priced bulk pack you can give these out to teachers, postal workers, friends and family.
Products from this warehouse ship with in 1-2 Business days.