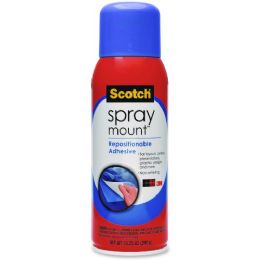 3M Adhesive Mount Spray - Office Supplies
3M Adhesive Mount Spray - Office Supplies at low wholesale prices. alltimetrading.com offers Office Supplies at bulk discounted prices.
10.25 oz - 1Each - Black
Spray Mount Adhesive is ideal for mounting newspaper and other delicate papers without wrinkles. One-surface, clear adhesive is long-aging, quick tack, low soak-in, nonstaining, and nonwrinkling. Repositionable adhesive becomes permanent when dry. Use it for short-term bonding for making layouts, keylining, creating package designs, photo composition work and negative preparation. Spray Mount Adhesive bonds a variety of lightweight materials, but is not suitable for outdoor application and is not recommended for photos, posters or large prints.
Brand: 3M