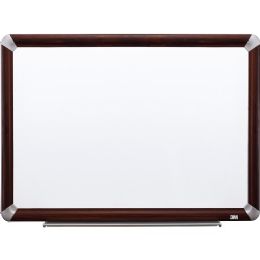 3M Dry Erase Board - Dry erase
3M Dry Erase Board - Dry erase at low wholesale prices. alltimetrading.com offers Dry erase at bulk discounted prices.
48" Width x 36" Height - Surface - Mahogany Frame - Film - 1 / Each
Dry-erase board offers a durable porcelain, magnetic dry-erase surface that erases quickly and easily without ghosting. Design features a stylish mahogany frame with aluminum accents for a contemporary look. Install horizontally or vertically with mounting brackets and Command Picture Hanging Strips. Dry-erase board includes marker and accessory tray.
Brand: 3M