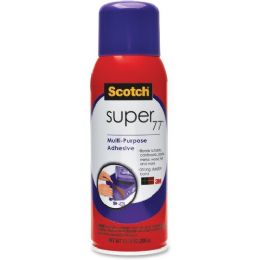 3M Super 77 Adhesive Spray - Office Supplies
3M Super 77 Adhesive Spray - Office Supplies at low wholesale prices. alltimetrading.com offers Office Supplies at bulk discounted prices.
1.05 lb - 1 Each - Black
Spray adhesive offers high tack, high coverage and fast-drying for permanently attaching any materials, including foil, fabric, cardboard, paper and more. Adhesive is not recommended for plastic-based photos. Fast, aggressive tack, clear spray and low soak-in make it ideal for projects all around your home or business. Use for home improvement and repair projects, general decorating and crafts, including wreaths, silk flower arrangements, models and many other projects. Photo-safe spray adhesive bonds thin films, foils and fabrics and works well in scrapbooking, picture framing and mounting presentations. Spray does not contain ozone-depleting chlorofluorocarbons. Low VOC, low-mist formulate bonds fast with high-temperature resistance and resists moisture to securely bond with many lightweight materials without wrinkles or soak-in.
Brand: 3M