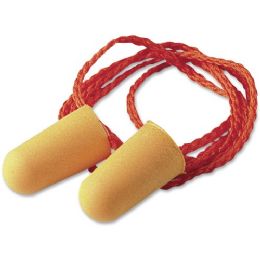 3m Corded Foam Earplugs - Earplugs
3m Corded Foam Earplugs - Earplugs at low wholesale prices. alltimetrading.com offers Earplugs at bulk discounted prices.
Dirt, Noise Protection - Foam Earplug - 1 - Orange
Soft, corded earplugs conform to the unique shape of each ear for SOCKSNBULKent hearing protection and comfort. Comfortable, cloth cord helps prevent earplug loss. Tapered design fits comfortably in the ear canal and offers a smooth, dirt-resistant surface for hygiene. Earplugs are made of soft, hypoallergenic foam. Noise Reduction Rating (NRR) is 29 decibels. CSA Class AL. Earplugs are test-compatible with 3M E-A-Rfit Validation System.
Brand: 3M