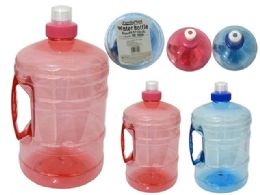 48 Units of Sport Water Bottle Size: 2l, Blue - Sport Water Bottles
Products from this warehouse located in CA ship with in 1-3 Business days
48 Units of Sport Water Bottle Size: 2l, Blue - Sport Water Bottles at low wholesale prices. alltimetrading.com offers Sport Water Bottles at bulk discounted prices.
The 2 L large capacity water bottle could meet your needs for more water intake, great for your daily basis. 2.2 liters fit inside the bottle. This corresponds to daily water intake. Transparent outlook,easy to check how much water you need to hold and how much water you have got. Perfect for pre or after workout water needs.
more convenient compared with traditional twist-off water bottle top, and also leakproof to take for outdoor activities and office drinking.