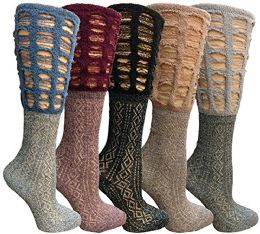 5 Pairs Yacht & Smith 5 Pairs Ruffle Slouch Socks For Women - Womens Ankle Sock
SKU#:
1950601
FREE SHIPPING ON THIS ITEM
This item qualifies for free shipping.
Low On Stock.
Temporarily Out Of Stock
5 Pairs Yacht & Smith 5 Pairs Ruffle Slouch Socks For Women - Womens Ankle Sock at low wholesale prices. alltimetrading.com offers Womens Ankle Sock at bulk discounted prices.
Get a value pack of super fashionable slouch socks with a frilly cuff. These fashion ankle socks are perfect for wearing for most occasions. Whether it's a party, evening event, a costume, these socks will spice up your outfit. Unique and separates itself from typical socks with a trendy new look.
Look and feel like a princess with the flowy ruffles. Or wear these casually with your favorite skirt, dress, or shorts. Provides a cute or sexy look. Look youthful and feel youthful with these stylish slouch socks. Looks great with heels, shoes, sneakers, canvas shoes and more.
Offers gentle support from these soft and comfortable socks with a whole lot of style with the ruffle top. Go for a retro or vintage look perfect for dress-up events, casual nights out, and more. These attractive and lovely lightweight socks for everyday wear with this fashion forward new trend.
Perfect as a holiday or birthday gift for women or girls. Sock size 9-11 fits women's shoe sizes 5-10. These anklet socks were designed to be breathable and comfortable enough to wear for long hours. Choose from various assorted designs including sheer ruffle surfaces, ruffles with slits and more in colorful designs.
SOCKSNBULK is dedicated to bringing you the most fashionable items at affordable prices. Your satisfaction is important to us. If you are for any reason not satisfied with your purchase, please reach out to us! These one of a kind designs are only available from SOCKSNBULK. Made with 90% cotton, 10% spandex.
Get a value pack of frilly cuff anklet socks for women. Features a flowy cuff at the top of a comfortable slouch sock for an attractive retro or vintage look. These lightweight socks were constructed for comfort, breathability, and fashion. Offers gentle support suitable for wearing all day long. This unique and fashion forward trendy design is only available with SOCKSNBULK.
Designs are one of a kind and includes sheer ruffles, ruffles with slits, and more.
Look sexy, cute, and stylish. Perfect for casual wear, parties, events, trivia night, dates, and more. Looks great when worn with shorts, skirts, dresses, heels, shoes, and almost any outfit you put together. Sock size 9-11 will fit women shoe sizes 5-10. Made with 90% cotton, 10% spandex.