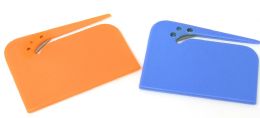 500 Units of Assorted Colors Letter Opener - Office Supplies
Products from this warehouse located in NY ship with in 1-3 Business days
500 Units of Assorted Colors Letter Opener - Office Supplies at low wholesale prices. alltimetrading.com offers Office Supplies at bulk discounted prices.
This letter opener-envelope slitter is high easy to use. You just have to grab this device glide through paper and get the perfect cut, save your time and energy.
This envelope slitter is highly practical in function. It slices through paper envelopes, letters, and packages of any size.
Gives you a neat and momentous solution when confronted with paperwork.
The envelope opener slitter is designed with the perfect size for the hand to hold it.
Crafted with ergonomic perfection; It can be easily stored due to the small and petite size and can be hanged due to hole. Great accessory for office and Home .
Assorted 2-3 Colors
Size 3" x 2.25"