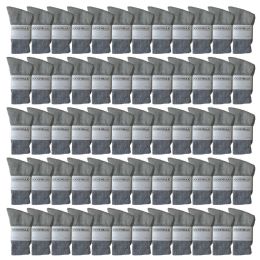 60 Pairs Yacht & Smith Kids Cotton Crew Socks Gray Size 6-8 - Womens Crew Sock
SKU#:
1922849
FREE SHIPPING ON THIS ITEM
60 Pairs Yacht & Smith Kids Cotton Crew Socks Gray Size 6-8 - Womens Crew Sock at low wholesale prices. alltimetrading.com offers Womens Crew Sock at bulk discounted prices.
WHOLEASLE SOCK DEALS CREW SOCKS: Purchase wholesale bulk crew socks in various case packs. Lot size of 240 pair. With everyday basic colors white, gray, black. Bulk purchasing is great for organization buying, donations or even a large house hold. Our bulk lots come in sizes ranging from young children to plus size adults.
CREW SOCKS FOR ALL AGES: Sport crew socks are great for various activities and even casual wear. Whether your playing racquetball at the gym, running the race track, basketball yoga, These crew socks are great for all sports and even casual wear. Picture nice cotton chinos with cotton socks to go. Our available sizes cover all age groups, and one stop shop for basic every sock needs.
COTTON SOCKS: Here is whatG s in side 80% Cotton 15% Polyester 5% Spandex. Cotton socks are made from a cotton plantG s seed pod so they are made of natural fibers. This allows socks to have breathability that prevents your feet from sweating or causing unwanted odors. Additionally cotton socks will dry 10 times faster than synthetic socks. Wear them and clean easily! SOCKSNBULK branded socks are also known to be soft with a seamless toe feature.
WHOLESALE PRICING: Our prices are geared for the bulk buyer to buy a everyday needed item in bulk for cheap without risking quality. Whatever market your making your purchase for commercial use personal use or donations SOCKSNBULK branded socks are guaranteed to fit your project needs.
SIZING DETAILS: Sock size 9-11 will fit womenG s shoe sizes 6-10.5 . Sock size 10-13 will fit menG s shoe sizes 8-12. Sock size 6-8 will fit kids shoe sizes 4 - 7.5
WHOLESALE SOCK DEALS: Each bulk pack of socks will includes 60 pairs of kids ankle socks for boys or girls. Choose from solid colors including white, black, or gray sports socks. With 60 pairs, you will never have to worry about running out of athletic socks again!
SPORT SOCKS: The cotton blend makes these socks ideal for various activities and all year round. Whether itG s for going to school or the mall in, or playing softball, basketball, or other sports, these socks are comfortable as they are breathable. Each pair provides a snug fit perfect for multi-purpose and all-season wear
DESIGN AND COMFORT: Features a cushioned sole that makes them more comfortable than your typical socks. Whether walking, running, or playing, these socks makes the activities more relaxing on the feet. Looks super stylish when worn with sneakers, boots, or shoes.
COTTON SOCKS: Features moisture wicking capabilities to help draw sweat away from the skin while keeping the feet cool and dry. A comfort-stretch fit allows you to slip into the socks comfortable while ensuring that they stay up even when in constant motion.
CONTENT: Made with quality fibers for longevity. Made with 80% cotton, 15% polyester, and 5% spandex. Size 4-6 will fit kids shoe sizes 7-10, size 6-8 will fit kids shoe sizes 4-7.5 (US). This is a great gift for your child, grandchild, sibling, or family member with a whopping 60 pairs! Perfect bulk buy for donating to your favorite charity. Add to cart now while still in stock!