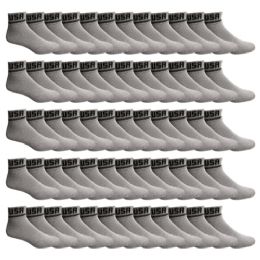 60 Pairs Yacht & Smith Men's Cotton Sport Ankle Socks, Usa Themed Size 10-13 Gray - Mens Ankle Sock
SKU#:
1957265
FREE SHIPPING ON THIS ITEM
This item qualifies for free shipping.
Low On Stock.
60 Pairs Yacht & Smith Men's Cotton Sport Ankle Socks, Usa Themed Size 10-13 Gray - Mens Ankle Sock at low wholesale prices. alltimetrading.com offers Mens Ankle Sock at bulk discounted prices.
VALUE PACK : Get wholesale socks at a discount! Bulk socks for everyday wear. Get a value pack of great quality socks so that you never have to worry about running out of socks! Solid colors with USA logo are great for everyday The comfortable cotton blend offers cushioning and comfort, great for every activities.
SPORTS SOCKS: These athletic socks are perfect for everyday wear and can be worn with anything. Whether you're wearing sneakers, shoes, or boots,basic cotton blend socks will work perfectly for a casual and sporty look. Lightweight and breathable sports socks can be worn all season long. The stay up technology ensures that your socks do not slide off .
COTTON SOCKS: Whether you're going to work, playing sports, exercising, or just taking a stroll, these cotton socks are the perfect pair. These socks also help to draw moisture away while keeping your feet cool and dry. Terry lined cushioning gives you extra shock support while running and playing high impact sports
QUALITY WHOLESALE: Made with a quality blend of cotton and polyester, these socks are soft and padded making them great for walking in. If you are on your feet often, treat your feet to something comfortable. The sports socks are thicker than your typical pair of socks and have a cushioned terry lining,keeping your feet dry and comfortable.
BULK SOCKS PACK: Made with 80% cotton, 15% polyester, and 5% Spandex..This perfect blend of fibers allow for your feet and legs to be comfortable and is not too constricting. Perfect value and great quality ideal for charity, donation, gifts, and more.
Get the most for your money when you buy a bulk pack of athletic socks.
Take on the gym, work, and everyday lifestyle with these socks that do it all! Great for running, cycling, basketball and more! Comfortable cotton blend socks with the perfect amount of stretch that won't slide down into your shoe. Features moisture wicking technology to help keep the feet cool and dry. Draws moisture away from the skin making it the ideal sports socks for the summer. Basic Athletic socks are a staple in every wardrobe. Ideal for all season wear, the bulk pack ensures that you never run out of socks . Versatile, lightweight, and comfortable, these socks are suitable for all activities and all seasons.
Make This bulk sock buy the perfect gift for your favorite charity. Socks are essential for those in need during the cold winter months Socks are the perfect gift for those in need all season long. Shop wholesale sock deals store for all kinds of warm weather socks all season long.
SIZE OPTIONS: Sock Size 13-16 fit men's shoe size 11-15 Sock size 10-13 will fit men's shoe sizes 8-12. Sock size 9-11 will fit women's shoe sizes 6-10.5 Sock Size 6-8 will fit kids shoe size 8-13 . Sock size 4-6 fits kids shoe size 3-8