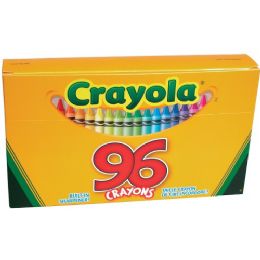 60 Units of Crayola Crayon - Crayon
60 Units of Crayola Crayon - Crayon at low wholesale prices. alltimetrading.com offers Crayon at bulk discounted prices.
Assorted Wax - 96 / Box
Crayola Crayons are the classic kids' art tool. They are the colors generations have grown up with - from red, yellow, and blue to gold, copper and silver too. Crayola Crayons are designed with a focus on true color, smoothness, and durability. Intense hues and true colors provide your children with colors to match their every coloring whim. Set of original Crayola crayons contains 96 different colors with a built-in sharpener.
Brand: Crayola