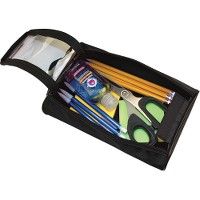 Advantus Carrying Case For Pencil, Scissors, Pen, Notepad, Hand Sanitizer - Black - Office Supplies
Temporarily Out Of Stock
Advantus Carrying Case For Pencil, Scissors, Pen, Notepad, Hand Sanitizer - Black - Office Supplies at low wholesale prices. alltimetrading.com offers Office Supplies at bulk discounted prices.
2.3" Height x 5.5" Width x 9" Depth
Storage case features a double-zipper closure that provides a wide opening to easily store and access your supplies. Transparent top allows you to easily identify your contents for quick retrieval. Hook-and-loop flap keeps your supplies securely sealed to prevent you from losing anything throughout the year. Storage case is perfect for storing pencils, scissors, pens, hand sanitizer, note pads and more.
Brand: Advantus