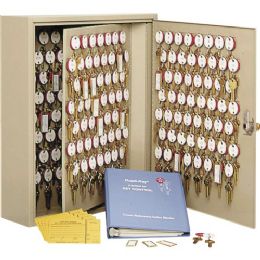 MMF 240-key Wall Cabinet - Storage and Organization
MMF 240-key Wall Cabinet - Storage and Organization at low wholesale prices. alltimetrading.com offers Storage and Organization at bulk discounted prices.
16.5" x 5" x 20.5" - Steel - Security Lock - Sand
240-key wall cabinet uses two different set of numbered key tags to make managing keys as efficient as possible. Simply attach your master key to the red, octagonal-shaped, self-locking key tags to ensure that your master original key is never loaned. Fasten the duplicate loaner key to the white oval, snap-hook key rings and file on the same hook with the master key. When a loaner key is issued, insert a Receipt Slip with recipient's name and date into a brass key holder and hang with the master key, log all information in the key loan register for a written record. Made of durable gauge steel with a sand-colored chip and scratch-resistant finish, this key cabinet's full piano-length hinge allows users to open it fully and view all keys. A disc tumbler lock secures the cabinet; predrilled holes and mounting hardware allow easy installation. Cabinet includes a lock, two keys, key tags, brass receipt holds, key collection envelopes and cross-reference index system in a three-ring binder.
Brand: MMF