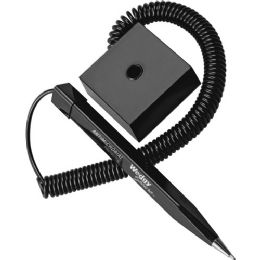 MMF Security Ballpoint Pen - Ballpoint Pens
MMF Security Ballpoint Pen - Ballpoint Pens at low wholesale prices. alltimetrading.com offers Ballpoint Pens at bulk discounted prices.
Black Ink - Black Barrel - 1 Each
Fine-point pen with square holder provides a safe, secure pen that won't dry out and prevents the growth of odor-causing bacteria and fungus on the pen's surface - protecting both you and your customers. The Wedgy Secure pen contains specially formulated, fraud-resistant ink that helps prevent identity theft and check washing. Black ink ballpoint writes easily - even on thermal paper. Long-lasting EPA and FDA-approved antimicrobial technology is designed to inhibit bacterial and fungal growth on the pen's surface. The virtually indestructible coil ensures that the pen stays in place. The adhesive square base mounts easily to any clean, dry surface. Plastic coil extends to 5' and coils back to less than 6".
Brand: MMF