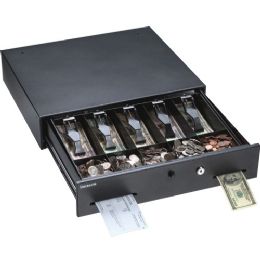 MMF Touch-Button Cash Drawer - Office Supplies
MMF Touch-Button Cash Drawer - Office Supplies at low wholesale prices. alltimetrading.com offers Office Supplies at bulk discounted prices.
5 Bill - 5 Coin - Steel - Gray - 3.8" Height x 17.8" Width x 15.8" Depth
Touch-Button Cash Drawer features a locking till cover and two media slots on the drawer front for safe storage of checks, credit card receipts and large bills. The drawer interior offers five extra-wide currency compartments with spring-loaded bill weights, and five round bottom coin compartments for easy scooping. Ideal for retail stores, banks, currency exchanges, and small businesses. Mount above or below counters. Removable tray has its own lock on cover. Use with key access or button drawer release. Drawer automatically springs open when the release button is pushed, and the key is unlocked. Alarm bell sounds every time that the drawer is opened, and the alarm can be easily disengaged. Rubber feet prevent the cash drawer from sliding or scratching countertops. High quality, heavy-gauge steel construction has a scratch-resistant, chip-resistant finish to withstand everyday use. Cash drawer includes two keys.
Brand: MMF