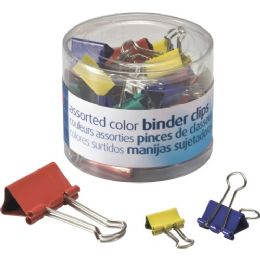 Oic Binder Clip Assortment - Binders
Oic Binder Clip Assortment - Binders at low wholesale prices. alltimetrading.com offers Binders at bulk discounted prices.
Mini, Small, Medium - 1 / Pack - Assorted
Durable binder clips offer wire handles for upright hanging so you can organize thick packets of information in your work space. Each clip is made with a corrosion-resistant coating for durability. The reusable tub includes a variety of binder clips in assorted sizes and colors. The mini clip has a 1/4" capacity. The small clip has a 3/8" capacity, and the medium clip has a 5/8" capacity. Assorted clip colors include green, white, yellow, blue and red.
Brand: OIC