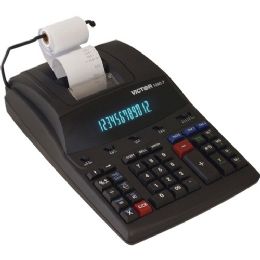 Victor 12807 Printing Calculator - Office Calculators
Victor 12807 Printing Calculator - Office Calculators at low wholesale prices. alltimetrading.com offers Office Calculators at bulk discounted prices.
Dual Color Print - Dot Matrix - 4.6 lps - Clock, Date, Big Display - 0.67" - 12 Digits - Fluorescent - AC Supply Powered - 8" x 11" x 3" - Black - 1 Each
Heavy-duty Commercial Printing Calculator features an extra-large, 17mm fully punctuated fluorescent display for easy viewing and a wireless USB. The SEND key relays a single calculation wirelessly to any application on your PC. Keypad mode converts the calculator to a wireless keypad. Print 4.6 lines per second with the current time/date with a two-color ribbon printer. For profit margin calculations, cost/sell/margin keys let you simply enter two variables, and the third automatically appears. Two independent tax keys allow you to program two separate tax rates for easy computation. Other functions include time/date, change sign key, item count, fully selectable decimal settings, selectable rounding switches, delta percent, units price mode, grand total key, percent key, sigma key, backspace key, date/nonadd key, and four-key independent memory. Calculator is compatible with Windows and Mac OS and runs on AC power. Calculator is made with a high percentage of recycled material.
Brand: Victor