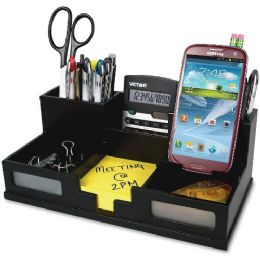 Victor Phone Holder Desk Organizer - Office Supplies
Victor Phone Holder Desk Organizer - Office Supplies at low wholesale prices. alltimetrading.com offers Office Supplies at bulk discounted prices.
6 Compartment(s) - 3.5" Height x 5.5" Width x 10.4" Depth - Black - Frosted Glass, Wood, Rubber - 1Each
Desk organizer provides six compartments for small knickknacks, office essentials and writing utensils while providing a removable ergonomic system to hold your mobile device. The acrylic phone holder is repositionable to any of the three large compartments while keeping your phone at a comfortable, ergonomic level. As part of the Midnight Black Collection, it brings a fresh perspective to desk accessories by offering functional solutions with appealing design elements. Organizer features sturdy wood construction with a durable, double-coated, matte black finish. Frosted glass windows add a touch of class. Nonslip rubber feet reduce movement and protect your worksurface from scratches and scuffs. Convenient design creates multiple ways to keep your desk organized. Holder is perfect for use either at home or in the office.
Brand: Victor