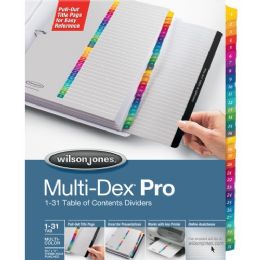 Wilson Jones Multidex Numbered Index Divider - Dividers & Index Cards
Temporarily Out Of Stock
Wilson Jones Multidex Numbered Index Divider - Dividers & Index Cards at low wholesale prices. alltimetrading.com offers Dividers & Index Cards at bulk discounted prices.
Printed1 - 31 - 31 Tab(s)/Set - 8.50" x 11" - 31 / Set - Multicolor Tab
Use Numbered Multidex Index Dividers with laser printers and copiers. Makes multiple indexes easily. Quick reference Table Of Contents slides out at a touch to avoid having to turn back to Table Of Contents Page. Includes Title Page, Table Of Contents and Carrier Sleeve, numbered tabs and Copymaster Typing Guide. Tabs match Title Page and Table Of Contents. Ideal for use with report covers. Narrow tabs extend enough to be seen but not beyond the cover. Title page can be customized with a word processor, printer or copier. Punched 11" x 8-1/2". Includes index dividers, instructions, title and practice page. Easy formatting using templates in most popular word processing applications.
Brand: Wilson Jones