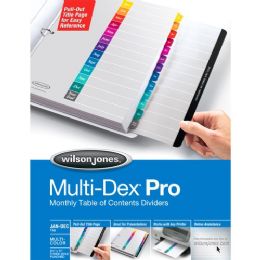 Wilson Jones Multidex Numbered Index Divider - Dividers & Index Cards
Temporarily Out Of Stock
Wilson Jones Multidex Numbered Index Divider - Dividers & Index Cards at low wholesale prices. alltimetrading.com offers Dividers & Index Cards at bulk discounted prices.
PrintedJan - Dec - 12 Tab(s)/Set - 8.50" x 11" - 12 / Set - White Divider - Multicolor Tab
These January through December Multi-Dex Monthly Index Dividers let you easily organize your letter size papers by the month. (You can use your laser printer and copier to easily make multiple index dividers.) Dividers come with a Title Page, Table of Contents Page, Carrier Sleeve, Numbered Tabs and Copymaster Typing Guide. Narrow tabs, which extend enough to be seen but not beyond covers, match the Title Page and Table of Contents Page. Title Page can be customized with a word processor, printer or copier using easy formatting templates found in most popular word processing applications.
Brand: Wilson Jones