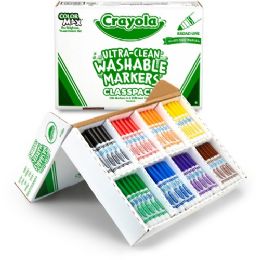 Crayola Classpack Markers - Markers
Crayola Classpack Markers - Markers at low wholesale prices. alltimetrading.com offers Markers at bulk discounted prices.
Conical Marker Point Style - Assorted Ink - 200 / Box
This Classpack of Crayola Markers makes it economical and convenient to provide students with all the markers they need. Classic, long-lasting, durable markers lay down brilliant color. Water-based ink doesn't bleed through most paper and can be revived within seconds in warm water if caps are left off. Durable nibs are safely secured in barrels. Versatile 5" x 5/8" markers with conical tips write at any angle. Extended caps offer safety and identify the color of the ink. Markers are certified AP nontoxic and conform to ASTM D-4236. Classpack includes 25 each of red, orange, yellow, green, blue, purple, brown and black. Plus six reusable desktop plastic bins for easy distribution and storage. Additional replacement marker caps are included.
Brand: Crayola