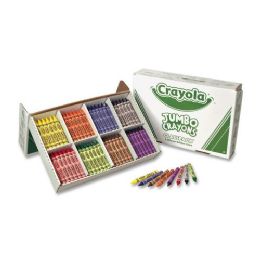 Crayola Crayon - Crayon at low wholesale prices. alltimetrading.com offers Crayon at bulk discounted prices.
5" x 0.50" Crayon Size - Assorted Wax - 200 / Box
Classpack contains Jumbo Crayons designed for use with young children or children with special needs. Crayons are easy to hold and hard to break. Crayons provide true color and no piling, buildup, or erasing of crayon layers. The 9/16" diameter crayons are easy for young children to grasp. The tip and barrel are strong, durable and long-lasting. Double-wrapped labels endure to keep the color name on the crayon. Crayons come in eight different colors in a sturdy, compartmentalized, reusable Classpack and are certified AP nontoxic.
Brand: Crayola