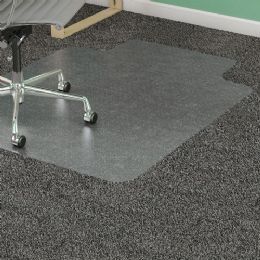 Lorell Diamond AntI-Static Chair Mat - Office Chairs
Lorell Diamond AntI-Static Chair Mat - Office Chairs at low wholesale prices. alltimetrading.com offers Office Chairs at bulk discounted prices.
48" Length x 36" Width x 0.12" Thickness Overall - 12" Length x 20" Width Lip - Clear
36" wide x 48" deep x less than 1/8" thick clear rectangular antistatic chairmat will extend the life of your carpet by spreading out the pressure from your chair casters. Will also reduce fatigue by allowing easier rolling across your workspace with less back and leg strain. Anti-static design helps protect users and sensitive electronic equipment (including computers, copiers, printers, servers, etc.) from electrical shocks that can be generated while seated at one's desk. Chairmat, which requires no ground cord, is designed for use on 3/8" thick or less carpets including padding. Provides a studded back designed to achieve a strong grip without piercing or damaging your carpet backing, smooth edge for smoother rolling on and off your mat, and a 20" wide x 12" deep lip to cover the carpet under your desk when your chair is pushed all the way in. Crystal clear chairmat lets the beauty of your carpeting show through and is made of heavy-duty material to stand up to years of use.
Brand: Lorell