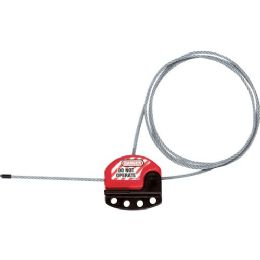 Master Lock Cable Lock - Cable wire
Master Lock Cable Lock - Cable wire at low wholesale prices. alltimetrading.com offers Cable wire at bulk discounted prices.
Black, Red - Plastic - 6 ft
6' cable is designed for locking valves and electrical throw switches. Integrated safety hasp and cable are ideal for multiple circuit breaker panel and side-by-side gate valve lockouts. Tough, flexible, multi-stranded steel cable is insulated with a clear plastic coating. Feed the cable end through the points to be locked out, and then back through the lockout body. Cinch it tightly to remove any slack with the patented, locking feature. Tough, lightweight Xenoy thermoplastic body withstands chemicals. Cable performs effectively in extreme conditions from negative 50 degrees Fahrenheit to 300 degrees Fahrenheit and includes high-visibility, reusable, write-on safety labels in English, French and Spanish. Identify the responsible person and then erase for the next job. 5/32" diameter, coated, steel cable lockout accepts up to four safety padlocks.
Brand: Master Lock