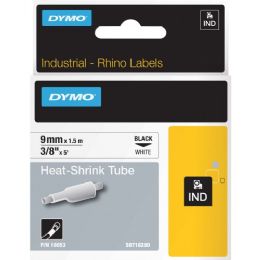 Rhino Heat Shrink Tube Label - Labels
Rhino Heat Shrink Tube Label - Labels at low wholesale prices. alltimetrading.com offers Labels at bulk discounted prices.
0.37" Width x 5ft Length - Rectangle - Polyolefin - Thermal Transfer - White
White heat shrink tube offers a method of labeling wires and cables. Simply slide the tube onto the cable and shrink snugly to the cable using a heat gun. Labels will never fall off. The cassette fits into all Dymo Rhino printers including 6500, 6000, 5200, 5000, 3000 and 1000. Industrial-grade polyolefin offers a 3:1 heat shrink ratio and the convenience of printing directly on the 3/8" (9mm) tubing itself, eliminating the need for an extra labeling step.
Brand: Dymo