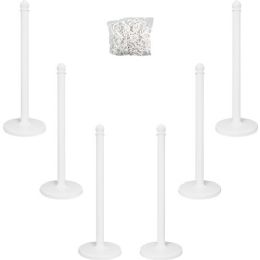 Tatco Plastic Stanchion - Office Supplies
Tatco Plastic Stanchion - Office Supplies at low wholesale prices. alltimetrading.com offers Office Supplies at bulk discounted prices.
39" High White Plastic Post - 14" Diameter White Base
Plastic stanchions and chain are rustproof and ideal for use outdoors to control crowd flow or as an economical indoor option. Chain threads through post head and is easily snap-locked in place with ball top. Chain may be cut to size as needed. Stanchion base is 14" in diameter and may be filled with sand or gravel (not included) for added stability. No tools needed for stanchion assembly. Stanchions and chain are sold separately.
Brand: Tatco