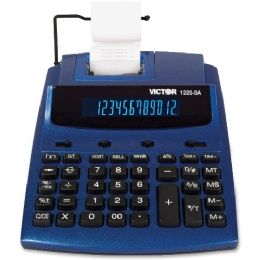 Victor 12253a Commercial Calculator - Office Calculators
Victor 12253a Commercial Calculator - Office Calculators at low wholesale prices. alltimetrading.com offers Office Calculators at bulk discounted prices.
Dual Color Print - 3 lps - Big Display, Clock, Date - 0.75" - 12 Digits - Fluorescent - AC Supply/Power Adapter Powered - 4 - AA - 2.5" x 7.8" x 9.8" - White - 1 Each
12-digit printing calculator offers antimicrobial protection that reduces growth of microbes and bacteria that can cause discoloration and odors. Print 3 lines per second in two colors. Calculator generates large print on paper tape. Design features a fluorescent display, large well-spaced contoured keys, built-in metal paper arm and PC touch keyboard. Functions include cost/sell/margin; tax +/- keys; delta percent of change key; four-key independent memory; change sign; percent; grand total; date/nonadd; backspace and sigma keys; item count and automatic constants. Print or display time and date. Calculator runs on AC power and includes an AC adapter.
Brand: Victor